Are you scared of meeting your online date for the first time? Here are some tips to help you feel relaxed and ready.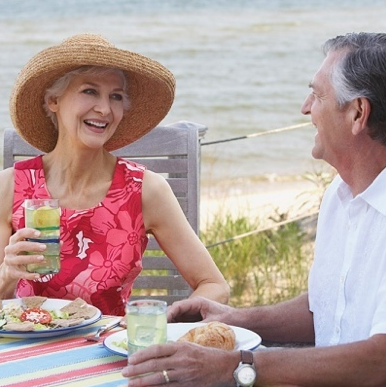 Online dating at any age is a tough prospect. When you're a senior, chances are you've come out of a long-term relationship and just aren't used to meeting people to date. Maybe you had a tough divorce or your spouse passed away. You didn't have to think about a new romantic partner in your life, but now you are considering the idea. You're in good company. Seniors are the fastest-growing segment of the online dating population.
But maybe that statistic makes you squirm. Maybe you're thinking, "what if my date doesn't like me?" or, "what are we going to talk about sitting at dinner together for two hours?"
If you think all those other single seniors know what they're doing but you don't, think again. Everyone is figuring it out as they go along. The trick is finding what works for you.
If you're feeling anxious and need a little perspective, following are some tips to help ease that anxiety:
Pick an activity as a first date. Instead of feeling anxious about sitting across the table from each other and making conversation, sometimes it helps to break the ice to have a more active date. Try taking your dogs for a walk in the dog park, and then stop somewhere for lunch or coffee. Since it's summer, you might try something relaxing like kayaking, or a wine tasting. There are no wrong answers here. Do what makes you feel comfortable, and something that gives you pleasure, so you're not so worried about the date itself.
Dress comfortably and confidently. You might feel pressured to put on your three inch heels and squeeze into your spanx, but don't do this for your date's sake. It's important to feel comfortable on a date, and that includes your clothing. If heels aren't your thing, wear some sparkly flats. If your favorite purple wrap brings out your eyes, then by all means put it on! If you feel good about how you look it will come across as confidence to your date. We could all use that!
Enlist a friend's support. Sometimes it helps to have your friend come over before the date to help you get ready. Even a phone call can help ease your nerves. Invite your friends to support you in your dating adventures. Also, it's a good idea to let them know where you're going and who you're with so they can keep an eye (or ear) out for you.
Practice makes perfect. Maybe on your first date you're all thumbs, or maybe you talk a little too much and regret oversharing later. Don't worry. Not every date is going to be fabulous, and you won't always be perfect. The point is, you're out there making the effort. You're putting one foot in front of the other. So take it easy on yourself.
Happy dating!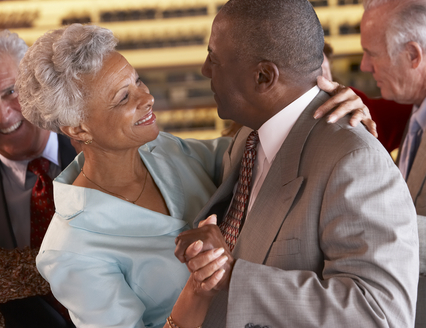 Creating an enticing profile is easier than you think.
You've joined a new online dating site, but you're wondering exactly what to say in your profile. You want to come across as attractive, fun, and a great date, but the blank page has got you stumped. What do you say about yourself? Do you talk about your kids? Should you use that picture from your trip to Hawaii last year? Or should you photo-shop an old photo you took when you were out with your ex wife a few years before?
While it seems like online dating is a scary thing to take on, it's actually a lot more fun and laid-back than it looks. The trick with a profile is to capture someone's attention, not to describe yourself in as much detail as possible. So put a little of your personality into it, and leave a little mystery for when you meet your matches in person.
Following are some tips to creating a great dating profile:
Be honest. Are you over 50 but trying to date 20-somethings? Online daters won't be impressed if you lie in your profile and state your age as 35. Some online daters fudge a little bit with their basic stats (height, income, age, weight), and when they meet their matches in person, it doesn't go well. Who likes being deceived? That will start you off on the wrong foot, and it will be hard to get over. Date the people who want to meet the real you.
Use a current photo. As tempting as it might be to post that old photo from when you were married, tan, and thirty pounds lighter, don't do it. Again, it's about being honest. If you don't have any current pictures you like, have a friend take some new ones. Be sure to use good lighting – taking a picture outside in natural light is the most flattering. Include a profile picture and an "active" photo – you doing something you love, like sailing or biking. This sparks conversation.
Use your humor. Do you like to laugh? Instead of just saying so, tell a joke or recall a story that you find funny. This way, you are revealing to potential matches a little of your personality. It sets you apart from those who just write: "I have a good sense of humor" or "I don't take myself seriously." Don't we all agree on these basic facts?
Keep it brief. There's no need to list all of your accomplishments, your relationship history, your career trajectory, or anything else you feel you need to either confess or boast about. Your profile is like a greeting, a first move. It should attract but not overwhelm your matches. It should spark a conversation. So keep your descriptions brief, and save more for when you meet in person.
Don't talk about your kids. You should declare that you have children in your dating profile, but you shouldn't make them a topic of conversation. Your dating profile is about YOU, not your kids. When someone gets to know you, then you can tell her about what your children are up to and how much they mean to you. Until then, your matches are looking to see if they want to be in a relationship with you. Not your kids. Leave them out of your profile.
Be yourself and have fun! Don't get too caught up in what you should or shouldn't do or how you're coming across. Online dating is a process, and it's about getting to meet new people. Whether you're getting your feet wet again or pursuing a relationship, online dating is a great way to begin.
Thanks to modern medicine and technology, seniors are living longer these days and that means many are looking for more ways to connect and enjoy life. The Internet makes this possible in new ways that we never had before. For example, did you know that more seniors are using the Internet as a way to keep in touch with adult children and even their grandchildren and great-grandchildren?
Here are some other benefits seniors are finding to computers and the Internet:
It's cheaper to keep in touch via the Internet than calling long distance or taking trips to visit
Computers are easier to use than ever before, even if you're not too tech-savvy
Computers now come with larger screens and magnifying capabilities so you can see even if your vision is weaker
You can pay your bills online
You can buy your groceries online
You can purchase tickets or airline flights online
You can look up and connect with old friends from school, business, the military, etc
You can share photos and view the photos of other friends and family
These are just a few of the ways that seniors are finding the Internet and computers useful. It's also a way to market and sell your hobbies. For example, if you knit or crochet, you might sell your creations on Etsy for some extra cash.
With all this into consideration, is it really any surprise that seniors are also getting into the online dating scene? Some seniors who are widowed or divorced and find themselves lonely are making the choice to seek friendship through online dating sites. It's a huge market and there are many great ways for seniors to get involved.
Online Dating for Seniors
Now let's explore another option that is gaining in popularity but that a lot of seniors still aren't familiar with- online senior dating. More and more seniors are turning to the Internet and online dating sites to help them find their next partner. Some may find this a little surprising and there may still be a few reluctant seniors out there but when you think about it, this makes perfect sense. What better way is it to meet new people?
As a senior citizen, you may not be able to drive yourself to places where you can meet other people your age and even if you could, there's not that many places around to go. When you get there, the number of eligible single partners available is going to be very slim. This makes it hard to find someone to date.
When you join an online dating site for seniors, there are hundreds or thousands of possibilities. This  greatly increases the odds of you meeting someone that you could begin a relationship with that might even turn into something permanent. The way Internet dating is viewed is much different than it was just a few years ago. It's no longer frowned upon but embraced as a great way to meet someone new to go out with. More importantly, it's smart, successful people using the Internet and these dating sites to find someone to date so you can meet good people.
Senior Dating Sites for Finding Friends
Maybe you're not looking for a romantic partner exactly but you do want to make some new friends. Senior dating sites are actually good for this as well and some sites are set up specifically to create a friendly environment where you can gather, socialize and become friends.
Look for a dating site that has a great online community where you can meet other seniors who want to make new friends. When you're sitting at home alone and no one to talk to, you can hop online and see who else is on. You can talk to others through several different methods depending on which site you're using.
There are also a number of sites that can be used to meet others through social settings. If you don't want to jump right into internet dating, considering signing up with a site like MeetUp.com which offers a wide variety of groups that participate in activities from playing board games and going to movies to walking and hiking and much more. This is an excellent way to use the internet and meet friends who have common interests.
Learn How to Use the Internet and How to Type
If you are a senior who has not spent a lot of time on the Internet or computers, then now is your time to learn more about how to type and how to use the programs and equipment on your computer. There are a lot of features that can make using the computer easy.
If you plan on online dating, you may want to brush up on your typing skills, especially if you are a very slow typist. You don't want to leave the other person hanging a long time on a chat because you are trying to find the keys.
Many communities offer internet and computer courses through their local senior center, if you think you might need some help with the basics. Once you get started you'll likely find it easy to learn.
Setting up an Online Dating Profile
When setting up your online dating profile, keep in mind that you'll want to stand out from the rest by setting up a unique user name. Think about the qualities you'll want to project, but be sure it doesn't insinuate anything sexual or you'll attract the wrong kind of dates!
Be sure to use a current photo that shows you looking your best. This is what will initially attract people to you, of course, and you want to make sure that you look like the photograph, not a representation of who you were a decade ago. Make sure your face and entire body are clearly shown, and try to project a warm and friendly image.
Before you begin to write about yourself, you might want to review other profiles to get an idea of what to write. Be honest, but it's okay and expected for you to take a positive spin. Coming across as a negative person is likely to turn others off quickly.
Making connections
You've got your profile is set up and you're ready to begin, what's next? When initially making an online connection it's important to take some time to get to know the person. Ask lots of questions and if you get a strange feeling about the person, know that your intuition is usually right and it's better to be safe than sorry. Once you've determined a person seems honest and could be a potential match, you'll want to move to the next step of speaking with them on the telephone.
A phone conversation and a person's voice may reveal traits you weren't aware of in your email conversations. Continue to ask personal questions and verify any inconsistencies. Never provide your financial information or too many details on your physical location. Don't waste your time with someone who is dishonest, it isn't worth the risk.
Once you've made the decision to meet, be sure to make your personal introductions in a public place. Tell a friend where and when you will be going, and if possible, have the friend call you on your cell phone about 10-15 minutes after your meeting time. If it doesn't go well it can provide a good excuse to leave quickly.
Remember, you're never too old to date, and don't fear the internet, it has connected hundreds of thousands of people across the planet and many of those meetings leading to successful real life relationships!
Here are our top tips for seniors on finding love and romance through online dating site.  It's no surprise then that many senior men and women are using online websites to help them find dating partners and to search for romantic relationships. Many seniors are now discovering how useful the Internet can be to find others they want to hook up with and date.
You don't have to be computer savvy to make use of the many dating sites on the Web today. Since some seniors struggle to catch on to the Internet and how it works, there are some dating sites that are specifically designed with you in mind to help you find the perfect date without getting lost in the process.
Senior Dating Sites
Here are some things that you need to know about using senior dating sites. While some of these tips apply to any dating site, there are some specific things seniors can learn about online dating services that will help you be the hottest senior on the block.
We suggest that you give yourself time to really research the sites before you just pull out your credit card and subscribe to the cheapest one or the first one you see. Most websites will allow you a free trial period so you can get a demo of the features, the community and the ease of use.
Take The First Steps
Your first step to finding success from a senior dating site is to determine what you want from the site. Are you looking for love, for friendship, for a quick "hook up"? There is no right or wrong answer; only the answer that applies to you and your situation.
Are you looking for a long-term relationship or marriage? Are you looking for someone from a certain spiritual or religious affiliation? These are all important things to work out in the beginning so that you know exactly what you're getting into as you prepare to sign up for dating sites and search profiles for the right person for you.
Some other things to consider about dating are how much you are willing to spend on dates and on the dating sites themselves. Are you looking for free sites or are you willing to spend a little more to get into private or more specific sites to meet the person you will date?
Choosing Senior Dating Sites that Meet Your Needs
Once you have a good idea of what it is you want from senior dating sites and from the entire dating experience, you're ready to start shopping for sites. It's important to find a dating site that properly meets your needs. This means you might need to sign up for several websites, try them all out for a bit and go with the one or two that best meets your needs.
There are no rules on how many dating sites you can use at once but too many will be difficult to keep up with. It's best to find the one (or possibly two) that meet your needs the closest and that you are the most comfortable with using and then maximize your time and energy spent into just these sites.
Create a Memorable Profile
Once you have the site you want to go with, it's time to create your profile. This is the most important part of the online dating scene- at least when it comes to getting started. Your profile is not just about attracting people to you for a potential date. It's actually about attracting the right kind of person to you. You'll just be wasting everyone's time if you falsify into on the dating profile and hook up with someone based on lies.
If you ever try to meet in person, some lies will be obvious and those that are not could still be deal-breakers if the truth is revealed. It's a waste of everyone's time to go down this route. Instead, create a memorable but honest profile that helps describe you as well as what you are looking for in a date.
Here are some basic tips on making your profile:
Fill out all the info the site asks you for
Use a clear, recently taken photo of yourself
Use a headshot for your main profile image – most sites allow other photos to be uploaded as well
Be honest and be yourself
Avoid negativity- it will attract negative people
Avoid bitterness about your past- same reason as above; it attracts the wrong people
Tell a little about your hobbies and enjoyments
Tell a little about what you're looking for in a date
Don't reveal any personal or identifying information in the profile
Have Online Dates before you Arrange for In-Person Dates
Once you are online and set up with a profile, you might be excited about meeting people. It's important that you don't jump too quickly into meeting someone in person. No matter how great they seem from their profile or online, it's also a good idea to have several online dates or e-dates before agreeing to meet a person in person.
You might do this through a chat feature and some people even enjoy using video chat. Many dating sites have this feature set up through their site or you can use Skype or a messenger system to have an e-date.
If things go poorly on your virtual dates, then there is a good chance you are not going to want to go for an in-person date with this person. You could be saving yourself a lot of time, money and hassle by taking the time to get to know him or her better first.
When You're Ready to Meet in Person, Be Safe
You're never too old to be safe while dating. Seniors have usually already been through a lot in their lives and you have the life experiences to help you spot when something is wrong. At the same time, it's possible that you have been out of the dating scene for some time and your intuition may not be just how it used to be when it comes to these types of things.
Regardless of your situation or how often you have dated, you never know for certain who you are meeting when you meet through an online dating site so it's always a good idea to practice extra safety precautions each time.
Here are some tips for being safe with your online senior date:
Meet your date in a public place with plenty of other people around
Do not reveal your home address or allow  your date to pick you up
Let a friend or family member know when and where you are going and who you are meeting
Have a cell phone with you and handy in case of emergency
Avoid alcoholic beverages that can hinder your thinking and inhibitions
Always know where you food and drink came from (to avoid getting slipped something dangerous)
Trust your instincts and if it doesn't feel right, don't feel pressured to stay
These are just a few quick tips to using a senior dating site. The more you use the sites, the more you will learn about how to get the most from them and to find what you are looking for.
Featured Coupons
Take advantage of these special time limited offers to try out the service and save on the cost of your next dating membership.
Good Dating Info For You
Latest From Our Blog
Latest From Our Blog Archives