Senior Online Dating – Why Your age works in your favor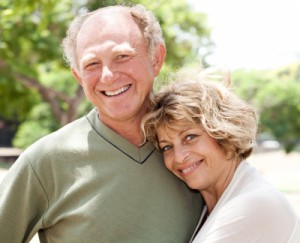 Your age isn't a hindrance to your dating life. It's quite the opposite, and here's why.
Dating can be a scary undertaking at any age. As a senior, you wonder if your age becomes an obstacle to ever finding love again. You might think that others won't find you as attractive as they would a younger man or woman, especially when they can meet so many people through online dating. But actually, the opposite is true.
A huge percentage of singles are over 50, and finding themselves back in the dating game after their marriages have ended. Many have children of their own, and aren't looking to start families all over again. Their priorities are different. Best of all, they've figured out what works for them and what doesn't.
And the best part? The largest growing segment of online daters are seniors. Which means you have a lot of choice out there.
If you've never joined an online dating site before, and are overwhelmed at the prospect of using technology to find love, you're not alone. Other first-timers are hesitant to take that first step, too. But once you do, you'll find it's easier than you thought.
One of the big hurdles with online dating is fear of the unknown. Using unfamiliar tools like dating profiles and matching technology to meet other single people seems unnatural. In addition, the idea of meeting a total stranger for a date can seem a little nerve-wracking. But Martha Stewart at age 71 decided to join Match.com and try her luck at online dating, and there's a reason. It's effective. It helps you to expand your network, and it gets you out of your routine and back into dating.
There are plenty of options when it comes to senior online dating. Many of the large dating sites like Match.com have separate online dating sites specifically for this demographic. In Match's case, it's OurTime.com. And if you're looking for a more familiar name, AARP has developed its own service as well, powered by dating site HowAboutWe.
So, you have plenty of company, and plenty of choice in your online dating sites.
Instead of questioning whether you should be online dating, understand that if you do want another relationship in your life, you can find it. Don't let your age be a factor in your decision. Instead, understand it will work in your favor. Here's how:
You know what you want. When you've had the benefit of making a few mistakes and enduring a few hardships in life, you can more easily figure out what you do and don't want in your life. You know your weaknesses and strengths. You know what you need in a relationship. Isn't that a wonderful thing?
You've had life experiences. Whether you've traveled extensively, raised children, had a successful career, or learned how to renovate your home, you've had experiences that have made you who you are. You're comfortable in your own skin. That's sexy.
You have your own life, apart from your children. Likely they are grown and out of the house (or almost out of the house) if you're a senior. You can make time for people and activities that are important to you.
You're more relaxed. Isn't it great that you just don't worry as much as you used to? Things have a way of working out in their own time – you don't sweat the small stuff. You can better handle ups and downs. This skill set helps a lot when it comes to dating. The more you can relax and enjoy meeting people, the better your experience will be.
Happy dating!
Featured Coupons
Take advantage of these special time limited offers to try out the service and save on the cost of your next dating membership.
Good Dating Info For You
Latest From Our Blog
Latest From Our Blog Archives